Frankie's Centennial Savoy Ball presented rare video from Frankie's 85th Birthday in 1999 held at the Roseland Ballroom in Frankie's hometown, New York City.

Frankie 85 was a grand event, attended by over 1800 people, featuring dancing to the sounds of The Count Basie Orchestra and The George Gee Orchestra.  Frankie 85 at Roseland was the largest Frankie Manning birthday party held during Frankie's lifetime.  Frankie 85 was produced by Alan Sugarman (Zort Music and Executive Producer of the 2014 Frankie's Centennial Savoy Ball) along with Laura Jeffers and Karen Goldstein.
Roseland Ballroom closed its doors in 2014 –  the New York Times recognized Frankie 85 as one of the most notable events held at the Roseland Ballroom.
"1999 Frankie Manning, known as the Pied Piper of the Lindy Hop, danced with 
85 successive partners at the Roseland Ballroom to celebrate his 85th birthday. It was satisfying, said Alan Sugarman, a producer of that event, since, in 1935, Mr. Manning had been excluded from the hall because he was black. "In 1999, 
Roseland apologized and put Frankie's dance shoes on their wall of fame," 
he said."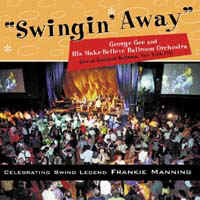 Zort Music produced a CD or the evening which included Frankie calling the Shim Sham, accompanied by George Gee Big Band.  This recording has achieved iconic status and is frequently selected for Shim Sham performances, world-wide. Click here to hear Frankie Manning calling the Shim Sham at Frankie 85.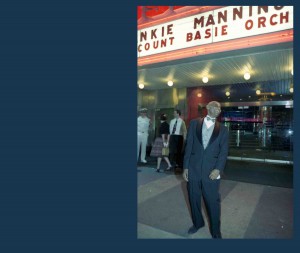 A photo book of the Frankie 85 party was prepared by Alan and is available as an e-book or printed book at Blurb.com.  The cover shows Frankie outside Roseland.