Upstairs in Frankie's Lounge …
Pedro Giraudo and his Mala Junta Tango Trio
Anthony Blackwell Tango and Swing DJ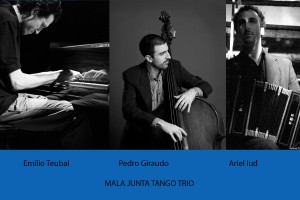 Tango at a Lindy Hop event? Yes. Tango is sometimes known as the Argentine Blues, and at least the Lyrics are similar. In 1934-45, the most famous Tango singer of all, Carlos Gardel, was living in New York City, making movies in Astoria and performing at the Paramount. He even attended the Cotton Club to hear Duke Ellington. While in New York, he met the young Astor Piazzolla, who was growing up in Acrobat City on 9th Street, and became the leading Tango composer of all time.
According to his autobiography, before he played at Roseland, Count Basie was asked about his Tangos.
At the same time, Argentine Tango orchestras were traveling to Paris and performing alternate sets with swing bands (Django). In modern times, many well known Lindy Hoppers have turned to Tango, including our DJ Anthony Blackwell, who competed in many Lindy Hop competitions, Catrine Ljunggren, and Paul Grecki. And, a show was produced in New York City, Swango, merging together the two dances. In Argentina, many Tango dancers also dance Rock n Roll and swing. One teacher at Herrang in 1999 and other years was Tango/Rock n Roll master Facundo Posadas, who now makes New York City his home. Here is Facundo in The Afro-Argentine Legacy of Tango: Robert Farris Thompson and Facundo Posadas.
Pedro is a fantastic jazz and tango musician originally from Cordoba, Argentina.
He is more than a tango master. He is an accomplished jazz and classical musician recently played with the San Diego Symphony, having just returned from a trip to Japan with his jazz sextet, and just played at the Jazz Standard in New York. He also dances the Tango. He has his own 17-piece jazz orchestra.