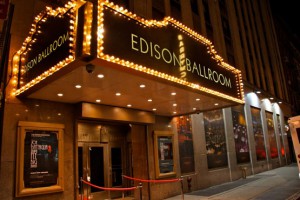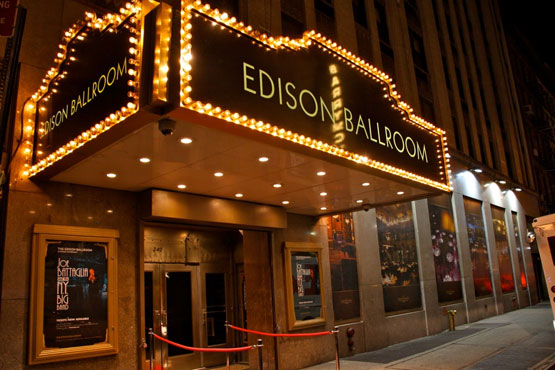 The Edison Ballroom 240 West 47th St. New York City NY 10036 (btw 8th Ave and Bway) 212 201-7650 212 201-7650
The Edison Ballroom is a restored 1930's Ballroom, which during the late 1990s was known as the Supper Club and was the hottest venue in New York City in the Swing Revival. In addition to the main ballroom, the venue has a smaller club size room known as "the Lounge," with its own bar on the second floor. Frankie's Savoy Ball will have a dance floor and stage with live bands in the Second Floor Lounge. The entire dance floor will be devoted
to dancing – without the tables that dancers had to dodge during the Supper Club years.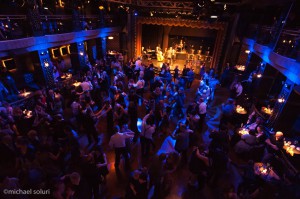 The Edison Ballroom has a long and colorful history. It was originally opened in the 30's as the grand ballroom for the Hotel Edison. It was constructed in the classic "art deco" design, and offered dining and dancing to its patrons, while featuring many famous bands and singers from the "Swing Era."
In 1998, Frankie Manning was featured in a PBS Video filmed in the Supper Club – "Swingin' With the Duke" – celebrating the 100th Birthday of Duke Ellington, with Wynton Marsali and the Lincoln Center Jazz Orchestra. Lindy Hoppers from New York City and elsewhere danced with Frankie. Here, Frankie dances with New York Lindy Hopper Mickey Davidson at 52:49. Swingin' with Duke – PBS Great Performances from Wynton Marsalis on Vimeo.
Swingin' with Duke – PBS Great Performances from Wynton Marsalis on Vimeo.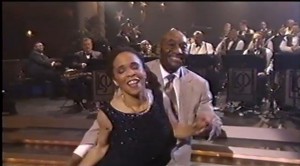 In 2008, the Supper Club closed and the ballroom underwent are restoration, while at the same time installing modern technology.
For attendees of Frankie 100, the Edison Ballroom is exactly one mile from Terminal 5 – a 15 minute walk or a short taxi ride. It is also conveniently located to many subway lines and of course Times Square.